Dickensian Music Hall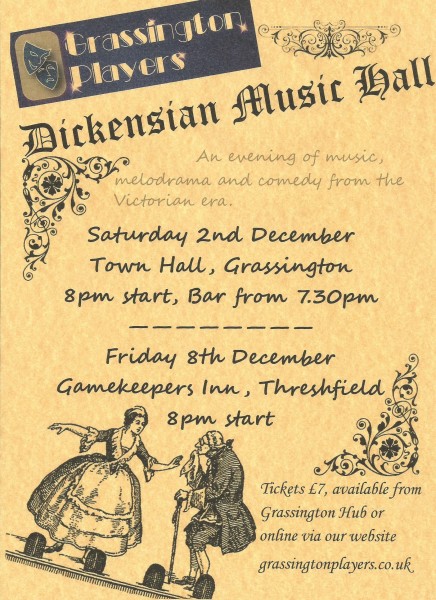 ​​
Grassington Players will be putting on our annual Dickensian show, which will be a traditional Music Hall. It will be an evening full of songs, comedy and melodrama. Singing along is encouraged but not essential.
We also have the pleasure of using a new venue for one of our shows, for our second performance we will be at the Gamekeepers Inn, in Threshfield in their function room.
It is usually a fast-selling, popular event so get your tickets now!
Mr Bennet's Bride
Our next production will be "Mr Bennet's Bride" by Emma Wood. This production will be co-directed by Paula Vickers and Zarina Belk at Grassington Town Hall on 19th, 20th and 21st October.
As it is the bicentenary of Jane Austen's death, we thought this would be an appropriate comedy drama. Everyone knows the characters of 'Pride and Prejudice' and 'Mr Bennet's Bride' takes a closer look at two greatly loved characters, Mr and Mrs Bennet, examining a time earlier in their lives, twenty five years before the novel is set (play setting 1780s). It presents an account of how this ill matched couple met, and why they decided to marry - a decision at least one of them would repent for many years afterwards!
A lovely comedy drama, with regency set and costumes, with characters all will enjoy, tickets will be on sale at Grassington Hub from mid September.
Taking a break from the norm

In a break with tradition we are opting out of a spring production this year and are instead holding a series of workshops
Duncan Lewis, who has very kindly offered to run these workshops is a former professional theatre Stage Manager and Director.  In the last 10 years Duncan has worked extensively throughout the UK and abroad and has worked in the West End. He ran London's leading lunchtime theatre company, has had various stints in repertory theatre and was right-hand man to Sir Alan Ayckbourn at the Stephen Joseph Theatre in Scarborough for three years. A fantastic opportunity for performers of all abilities to meet and learn, you do not have to have any previous acting experience.
Just come along and join us for an evening of fun and entertainment.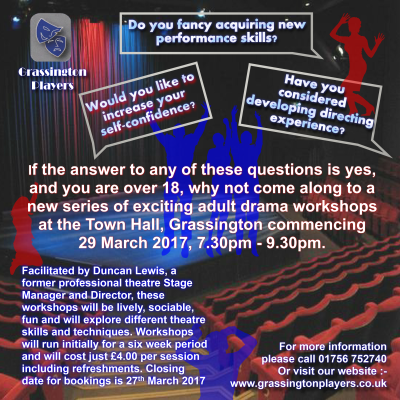 Big Bad Mouse- NODA Review by Pamela Booth

We stepped back into the 60's for this Philip King and Falkland Cary farce set in the office of the Chunkibix Biscuit Factory. Mr Price-Hargreaves rules the roost with secretary Miss Spencer catering for his every whim. Poor Mr Bloome is very much the underdog in the office until the day he is accused of accosting and chasing a young girl. Suddenly he becomes a hero, a 'real man' of the firm and he gains celebrity status. 
I'm not sure how PC this would be nowadays but in the 60's we obviously didn't notice. There were some great performances in this production and it was good to see new young faces in the cast. Katie Milner as the office girl Fiona was very relaxed in her role.
It is not easy opening a play alone on the stage but she was completely at ease as a trendy teenager. She was joined by fellow office worker Harold (Tom Powell) and the two of them were an excellent addition to the cast. The blustering Mr Price- Hargreaves ( Mark Bamforth) brought his experience to the stage and dominated the office over the nervous Mr Bloome (Richard Sutcliffe) until the tables turned in the second act.
Mr Bloome's transformation was very convincing and highly amusing. Paula Vickers as the long suffering secretary was excellent in her role and very amusing. She had wonderful facial expressions and her transformation in the final scene was brilliant.
The partnership between Mr Price-Hargreaves and Mr Bloome worked well and they handled their role reversal in the second act very well. Miss Spencer's niece Doris (Emily Hobbs) the cause of all the confusion, was excellent in her part and there was a pleasing performance from Jennifer Scott as the overbearing Lady Chesapeake.
The costumes brought back many memories and had been well put together for the 60's look. This was a wonderful romp with lots of funny moments and a great selection of songs both at the start of the play and during the interval. I must confess to knowing the words to all of them. Director  David Newall Assistant Director  Zarina Belk 
'Entertaining Angels', Grassington Players 12/05/16
What constitutes a 'straight' play, which, according to director Andrew Jackson, Entertaining Angels by Richard Everett was? Well, it had laughs, but wasn't a comedy; tension in the plot, but it wasn't a thriller and there was a partly unexplained death, but it wasn't a whodunit. So a straight play must be one that combines all these disparate elements into a satisfying and entertaining whole as that's what this production admirably achieved.
Set in a vicarage garden Entertaining Angels takes that most English of settings  and subverts it somewhat showing us a snapshot of four lives upset from an outwardly idyllic present by the sudden death of the fifth character Bardolph, the vicar, played calmly and with a quiet authority by Andrew Jackson himself.
Apart for the shock of his death Grace is forced by a sudden revelation from her sister Ruth to confront Bardolph's ghost and the truth of their marriage while therapist daughter Jo has to analyse her own feelings and future plans when new vicar Sarah confides some un-clergy like secrets. The performances required skill and tact so that the strong emotions evinced by these events didn't come across as melodramatic and that the upset and hurt experienced by all members of the cast looked realistic and authentic.
Emma Shepherd as Jo and Sarah Vetch as Sarah developed the friendship between the two characters in a believable way in the short time allowed while Bev Cuerden as the revelatory wayward missionary sister Ruth moved at least one audience member to tears with her heartfelt reactions to the events her confession precipitated. The play though had to centre on Grace, at once sharp and witty, uncertain and confused, angry and hurt and Penny Hart-Woods gave an exemplary performance managing to convey all the breadth of these feelings without putting a foot wrong.
Mention must also go to the wonderful setting, realised by Barrie Doyle and Derrick Lee but the plaudits go to the cast and direction in this compelling 'straight' play.
What the Dickens is going on?
This years Old Time Music Hall evenings saw some truly consummate performances from the best of our local talent.
Playing to full houses on both evenings the audience feedback we received was truly heartwarming and certainly made all the hard work worthwhile. We will of course be doing another Dickensian show next year.
In the meantime we will be planning and making preparations for our Spring production. Watch this space for more information!
Mouse in the House as Autumn sets in

The cast for Big Bad Mouse are now in the final leg of rehearsals and from what we have seen of it so far its going to an absolute  corker of a show! This frequently revived 1960s British stage play and theatrical comedic farce that, although not specifically written for them, became famous as a loose vehicle for the many talents of the British comedy actors Jimmy Edwards and Eric Sykes has constantly seen various revivals with other stars right up to the present day. It was a top attraction in London's West End for three years between 1967 and 1970 and the anarchic pair brought their own talents to play and twisted the plot and dialogue out of all recognition.
Although we sadly do not have Edwards and Sykes in our production, we have several of Grassington Players finest comedy talents to bring this hysterical play to life.
A bit of a comedy tonight-Review

A full house thoroughly enjoyed the Grassington Players' 90th anniversary show 'A Bit of Comedy Tonight' on Saturday after warm feedback from audiences on Thursday and Friday evenings.
Amateur dramatic societies often cry out for more men and more young members. It is a sign of the strength of this society that the guys out-numbered the girls and skilled teenagers played an important part in the production. At the opposite end of the spectrum a dazzling performance by an octogenarian had the audience in stitches.
The show was a revue including some golden excerpts from the last 60 years of comedy, from the famous "Elephant in a Box" sketch right up to Blackadder. Bev Cuerden put it all together and produced the show, which is a much more difficult job for a compendium than it appears, and her success was clear for all to see.
The performance sparkled. No prompts. No awkward moments. Just a very enjoyable evening from start to finish. When the standard is high it is dangerous to pick out performances as readers will assume the rest fell short. In this case they certainly did not. So what follows should be treated as a very personal reaction. I loved the "Elephant in a Box" which was a gem of a performance. I thought Lottie Cuerden's interpretation of a Guys and Dolls number was beautifully understated and Tom Powell in Spamalot showed he has a great talent which has not yet been fully utilised.
Altogether a wonderful evening from a very skilled cast. But next time Mrs Slocombe appears on the Grassington stage, please may we be treated to her feline double entendre?
Waiting For Godot, Spring 2013- Review
What an exceptionally thought-provoking production this was, and how very privileged I feel to have attended it! The play is an enormous challenge to perform, and in the hands of less talented actors could be an absolute disaster, but certainly not so in the very capable hands of Grassington Players. What is Waiting for Godot about? Another member of the audience asked me that question, and I replied "Whatever you want it to be." A much quoted review states that it is a play where nothing happens, twice over. My, of course subjective, view is that, like all existentialist work, it is about the pointlessness of life. We carry out our little routines every day, constantly trying to improve ourselves, our homes, our careers, our lives in the belief that in the fullness of time all our expectations will be fulfilled. When Godot arrives everything will be better. Towards the end of both acts a goatherd boy enters and tells the two tramps that Godot will not be coming today, but will surely come tomorrow. However, Godot, in common with tomorrow, never comes, but maybe tomorrow will be different……. Perhaps even the name is a significant sobriquet; Vladimir only ever calls his companion Gogo, while Estragon calls his Didi. Their full names appear only in the cast list. Could Godot be a pet name for the deity? Even the goatherd boy, most admirably played by the young Jim Mallalieu-Black with humble deference to the tramps, could be seen as a prophet announcing a brighter future. Despite the sombreness of the play, where more than once Estragon suggests they commit suicide, there was much humour and it was splendid to hear Grassington's Octagon Theatre resounding with laughter. Leslie Kerkham's optimistic and loquacious Didi was a splendid foil to Mark Balmforth's dour and absent-minded Gogo, and Andrew Jackson's Pozzo was a vile, cruel and controlling monster to the hapless and ironically named Lucky of John Anderson, who has only one speech, but what a virtuoso one it is! What was not noticeable, because it was so subtly well done, was the comic timing, allowing any nuance to be appreciated by the audience without slowing down the performance or becoming laboured. Very, very well done to all concerned, both on and off stage, for putting on such a wonderful production and one I shall always remember. Marion Field
Calendar Girls- NODA Review
How fitting that this Society should be chosen to be the first amateur group to perform Calendar Girls as it really felt that the play had come home. There was such a great atmosphere in the Devonshire Institute with lots of paper sunflowers and elegant ladies dressed in black. There were jars of jam and marmalade to buy and the whole evening was a delightful tribute to the original Calendar Girls. A strong cast had been assembled and they took us through the hilarious and heartbreaking moments in the story. It was good to actually see the five ladies blossoming as the play moved on, starting off with humdrum lives and ending up being world wide personalities. They must have spent hours perfecting the 'nude' scene as it worked beautifully, bringing well deserved applause for each individual photograph. The set changes were kept to a minimum and the simple backcloth was quite sufficient for the outdoor scenes. Traditional brass band music between scenes was lovely to hear. This was a very moving production with all cast members treating their roles with great sensitivity. Well done to everyone connected with this production both on stage and off and thank you for the programme packed with information which I will be keeping as a souvenir of a lovely evening.
Calendar Girls- Review
There was inherent danger for Grassington Players in staging the world amateur premiere of Calendar Girls. Bringing the production home, as it were, meant that not only would the event generate immense media interest but local people would not forgive any imperfections, given the sensitivity of the subject. The Players were going to be judged in a blaze of publicity. The standing ovation which the cast received as the curtain came down after the first night proved that any fears were misplaced, and that they had honoured the original Girls with a faultless and moving performance. I have been attending events in Grassington Town Hall for 30 years but I have never felt the sense of excitement and warmth which permeated the auditorium as the audience gathered. There was a wonderful sense of occasion which was enhanced by the front of house team, dressed in black dresses and tuxedos. With the Calendar Girls sitting at the front of the Hall, and with the whole story rooted in the locality, there was a strange sense of seeing reality and theatre inter-twined, and feeling that the actors recognised they were playing the next stage in the real story, which continues to evolve.
The fact that so many of the audience will have been touched in some way by the "cheating, sly, conniving, silent, bloody" disease which cancer is, deepened this sense of sharing in what the Girls began. The standard of the performance was exceptionally high. All the technical side of things – the lines, the moves, the lighting, the stage setting and re-setting - was perfect. But the performance was so good I did not think about this until afterwards. During the show we saw a group of actors unfolding the real story for us. From the inside. We shared the humour, the fear of cancer, the ridiculous situations and the poignancy. We held our breath when the photos were being taken and we applauded as the money rolled in. Whether we were applauding the real story or the play I do not know. The two became one. To pick out individuals would be as inappropriate in this case as it would have been to suggest one of the real Calendar Girls was more important than the others. It was the quality of the ensemble which made the performance work. And by ensemble I mean the whole team, including direction and production. It truly was a beautiful evening. If you missed it, reserve your tickets for the second week of the run. You will not regret it.
A Cracked Pot Review (2012)

This was a fascinating play set in the 1800's and written by Blake Morrison who originally came from Skipton. Set in Skipton it tells of the trial of a young man accused of breaking his future mother-in-law's favourite jug.The judge in charge of this trial is under pressure as a visiting magistrate from Manchester sits in on the action. These two parts were skillfully played and showed the contrast between the sombre magistrate and the drunken philandering judge. They were well supported by a talented cast who had all coped well with learning a very complex script. Thank you for providing a Tykes Glossary in the programme to help us with the Yorkshire dialect! The clever use of floor area and stage for the different sets worked very well and the supper provided at the interval added to the atmosphere. A number of the audience had dresssed for the occasion and hats and shawls were provided for anyone who needed them. All this made for an atmospheric amusing and enjoyable evening. Pam Booth, National Operatic & Dramatic Association Grassington Players took to the stage for three nights last week performing Blake Morrison's "The Cracked Pot".
The comedy, set in an early nineteenth century Court House in Skipton, opens with the central character Judge Adam (Mark Bamforth) emerging from his slumbers battered and bruised to be advised by his Clerk Mr Bright (Leslie Kerkham) that a High Court Judge from Manchester is about to visit for a sort of impromptu Ofsted inspection. The arrival of the Judge in time for a Court case in which two families are disputing the circumstances surrounding the breaking of a pot jug provides the opportunity for the truth about Judge Adams' battered appearance to be established. This was a thoroughly enjoyable production, Jane Ellison-Bates who has emerged in recent years as a very talented Director, captured the atmosphere of a dingy Court House with a set that made use of both the stage and the hall floor, characters coming in from behind the audience giving one the feeling of being part of the action.
Mark Bamforth's performance as the wily Judge Adam was in my opinion outstanding, capturing the essence of the character in every facet of the performance. There were strong performances from Andrew Jackson (Judge Walter) and Leslie Kerkham which made for some memorable comic exchanges throughout. The litigants, headed by the excellent Paula Vickers as Martha the aggrieved owner of the broken jug, also included two young actors Will Davidson (Leslie) and Catherine Wynn (Eve) who gave very creditable debut performances, on occasions both struggled with voice projection from the stage but must take great credit for their contributions to this production. Nice cameo performances from Lorraine Paylor (Meg), Edwin Williams (Tommy) and Sue Clement (Aunt Bridget) added to the quality of the entertainment. Additional clever touches to this production included the provision of paupers fare (bread, cheese and apple) served to the audience in the interval and a glossary of tyke dialect words used in the play, contained in the programme. Finally, the skills of the make up team in producing the most convincing "injuries" to the bald pate of Judge Adam were, in my view, along with a number of aspects of this production, to a professional standard.
Andrew Armstrong (reproduced from The Craven Herald)